presents

POYNTING
Farside Directory - Ridge Section 113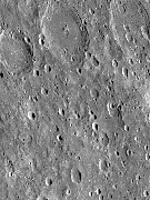 ...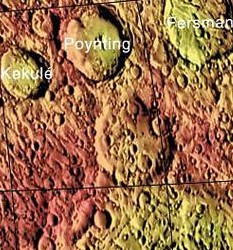 Left. Ridge Section 113; Right: Cropped 1200 dpi USGS color chart of Section 113
Larger expanded version of color chart above
USGS Charts 1020N-220240
Lunascan Project composite of Sections 112 and 113
BRIEF DESCRIPTION
18.1_N_133.4_W
Poynting is a large lunar impact crater, 128 km wide, located on the lunar Far Side. It is located to the north-northwest of the walled plain Hertzsprung (Ridge Section 124) part of which is in the SE corner of Section 113 (see expanded version of color chart), with the crater Fersman just on the NE edge and Kekule near to the west-southwest in the NW corner. This researcher could not find any name for the huge crater in the midsection of Section 113. Poynting has undergone some erosion, and several small craters lie across the rim and inner wall. A pair of these lie next to each other along the eastern side, and another pair on the western rim. Across the southeast rim is a nearly merged crater pair. Parts of the rim remain well-defined, however, including the east and north where there are some terraces. The rim is generally circular, with a slight inward intrusion along the northwest. The interior floor is relatively level, except for a central peak ridge located slightly to the east of the midpoint. There are small craterlets on the floor near the south and northwest edge, and a number of tiny craterlets. (Credit: Most of the information used in the section feature descriptions was obtained from wikipedia.com. Section 113 and this directory was created by Fran Ridge and Ned Haskin of The Lunascan Project).