presents

KOROLEV
Farside Directory - Ridge Section 122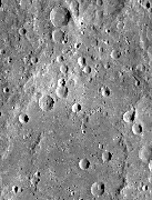 ...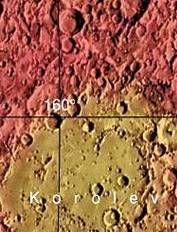 BRIEF DESCRIPTION
Section 122 is entitled Korolev, which is a very large lunar crater (a whopping 437 km walled plain) and lies on the Far Side of the Moon. The northern part of its floor crosses the lunar equator. Doppler (out of frame and in Section 133) is attached to the southern rim. The outer rim of Korolev is heavily worn and eroded, with a multitude of small craterlets lying across the wide rim and the low inner wall. The interior floor is relatively flat compared to the surrounding terrain, but is pock-marked with many craters of varying sizes. The most notable of these interior craters are Korolev M in the southern part of the floor, and Korolev D next to the northeast rim. Within the interior of Korolev is the remains of a second, inner ring. This is roughly half the diameter of the outer wall, and is the most intact in the eastern half. Here it forms a curving arc of ridges across the floor. At the midpoint of the formation, there is nothing resembling a central peak. Also marked on our chart section are Engel'gardt, Korolev W, and Korolev C. Out of frame to the north is a satellite crater of Engel'gardt. This satellite crater (Engel'gardt B) is attached to the north rim and is actually a much larger formation with a diameter of 163 km. (Credit: Some of the information used in the section feature descriptions was obtained from wikipedia.org.
Section 112 and this directory was created by Fran Ridge and Ned Haskin of The Lunascan Project).