presents

MARIOTTE
Farside Directory - Ridge Section 145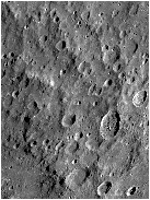 ...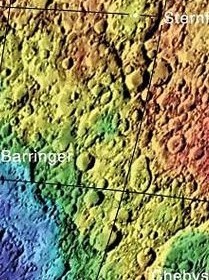 Left. Ridge Section 145; Right: Cropped 1200 dpi USGS color chart of Section 145
Larger expanded region version of color chart above
Lunascan Composite of Sections 144,145,154,155
Apollo Basin Color Quad of Sections 144,145,154,155
USGS Charts 2030S-220240
LAC 106 WAC (Original pdf)
BRIEF DESCRIPTION
28.5_S_139.1_W
Ridge Section 145 is Mariotte, a 65 km elongated crater located on the lunar Far Side. This formation is located about one crater diameter to the southwest of the smaller Das. This crater is longer to the southeast by about an extra 5 km, giving this feature an egg-shaped outline. The outer rim is sharp-edged and little eroded. The interior floor is uneven, particularly toward the southeastern end. Directly north is Murakami (formerly Murakami Y). To the southeast of Mariotte is the large crater Chebyshev (out of frame). The most interesting item on both sections 145 and 144 is the crater chain and ray system easily visible in both frames (See second link above). [Note: The caption "Barringer" in the cropped color chart refers to the crater in the adjacent section and not 145] (Credit: Some of the information used in the section feature descriptions was obtained from wikipedia.org. Section 145 and this directory was created by Fran Ridge and Ned Haskin of The Lunascan Project).